Hello friends, welcome to my recommended page! This is just a space for me to share things that I've been loving or think you should check out. Hope you find something to become obsessed with, I'll be updating as we go.
'EVERYTHING IS LOVE' by The Carters (Beyoncé and Jay Z)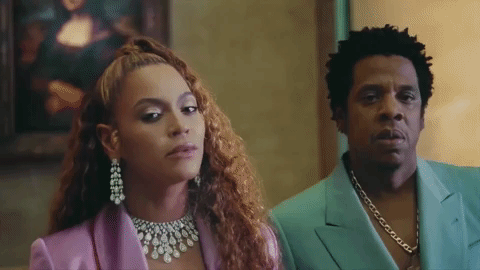 source: https://www.youtube.com/watch?v=kbMqWXnpXcA
There are few words powerful enough to describe how I feel about this album, but magical is the first that comes to mind. It's raw, inspirational and purely addictive, if you're anything like me you'll have it on repeat for weeks. It's hard to pick a favorite, but at this moment in time I'm going to go with LOVEHAPPY.
You can find it on Spotify here: https://open.spotify.com/artist/4fpTMHe34LC5t3h5ztK8qu#_=_
Getting Curious With Johnathan Van Ness – 'What's a Menstrual Cup? with Sullivan Oakley'
source: https://www.netflix.com/queereye
Johnathan Van Ness, the groomer from Queer Eye (which if you haven't seen – what are you still doing here?) has a podcast which is equal parts entertaining and educational. Each episode features a guest with which he discusses a subject they're knowledgeable on. This particular episode is all about the menstrual cup and menstruation in underprivileged countries.
Spotify link to the episode: https://open.spotify.com/episode/34nfkdmapC34N0uxLBzIoJ?si=6yRWrMLWSCqM8Clb5h3q9Q
Liz Plank
source: https://micdotcom.tumblr.com/post/123300389611/watch-feminist-isnt-a-dirty-word-and-its
Okay so there's no hiding the fact that Liz is one of my favourite people in existence. She's a journalist, senior producer and political correspondent at Vox and feminist and coined the phrase 'big uterus energy'. She's a vocal advocate for women as well as political and social issues and is always preaching intersectionality. Her Twitter and Instagram are a constant source of information and polls on outfit choices for tv appearances.
You can find her on Twitter and Instagram @feministabulous